Want to find the best narrow car seats for fitting more than one child? You're in the right place.
If you have a narrow space in the back, it will be a bit challenging to find a narrow car seat, especially if you have to ride multiple children at the same time in the back seat. In this article, we'll create a list of our favorite narrow car seats with slim designs under 20 inches in width.
You must have found that the 20-inch width is a board criterion. If you need to find the narrowest car seats at most 17.5″ wide, check our post on the best car seats to fit three across.  
Not all car seats are designed and manufactured with an equal narrow width. But to satisfy the needs of growing families with two or more children, manufacturers did launch a few slim models. 
Some narrowest car seats will be good for three across fitting as well, like the Diono 3R series.
To make it simple, we categorized the 12 top narrow car seats into four types of car seats – infant, convertible, all-in-one, and booster. Just click on it below to find the one best fit your needs.
Narrow infant car seats are suitable for newborns and babies younger than 1 year old or less than 32-inch tall;
Narrow convertible car seats are good for infants and toddlers and preschoolers.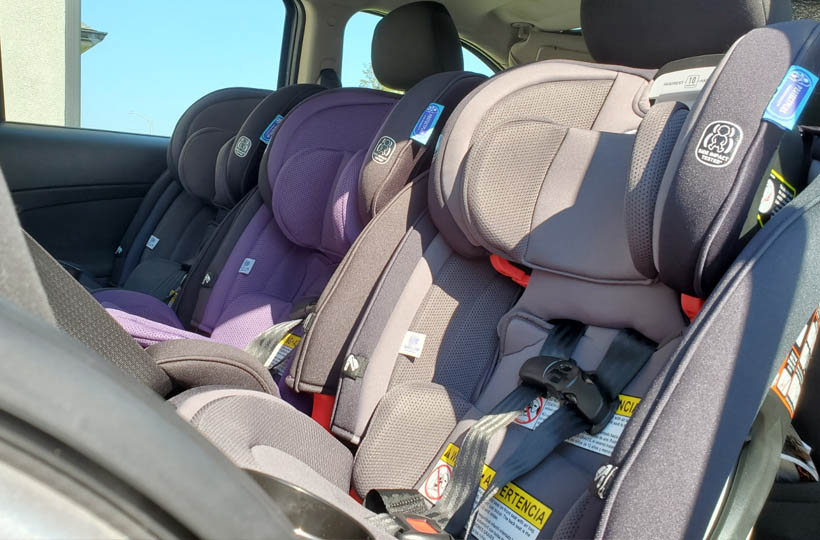 Doona Infant Car Seat Stroller

Chicco MyFit Harness Booster
We also make several lists of the best narrow car seats according to their performance (rear-/forward-facing/booster weight/height limits), by budget, and by bonus features (like lightweight, portable for travel)
Chicco KeyFit 30 - 16.75"
Safety First Jive - 17.5"
Graco SlimFit3 LX - 16.75"
KidsEmbrace SpiderMan - 19"