This post contains affiliate links. As an Amazon Associate, I earn from qualifying purchases.
Quick List: Lightweight Convertible Car seats
Don't have much time to research a lightweight convertible car seat? Have a quick look at these selections:
1. Lightest convertible car seat: Evenflo Tribute 5 ($79.99 on Amazon) – 9.29 pounds weight.
2. Best lightweight convertible car seat for small cars: Cosco Mighty Fit 65 DX ($89.99 on Amazon) & Safety 1st Guide ($89.99 on Amazon)– 17″W x 21.5″L x 26.5″ H.
3. Best lightweight convertible car seat for 3 across: Safety 1st Jvie  ($99.99 on Amazon) – 17.5″ width.
4. Best lightweight convertible car seat for big toddlers – Baby Trend Trooper ($99.99 on Amazon) & Evenflo Sonus 65 ($119.99 on Amazon)  – 50″ height limit.
5. Cheapest lightweight convertible car seat: Cosco Onllok ($74.99 on Amazon) – 16.5″, budget-friendly for most families with big kids.
Bonus: WAYB Pico car seat ($495 on Amazon) – 8 pounds, lightest toddler car seat for travel
Choosing a good lightweight convertible car seat is a deeply subjective task. Some may prefer the ease of care and maintenance over aesthetics, while others may value the opposite. In the end, we pick the lightweight convertible car seats based on quality, comfort, machine washability (so important!), and safety pro tips.
But, yes, we also consider whether they'll be easy to install in the cars. Easy installation not only saves parents' time and energy but also means how easy and tight installation a car seat can provide.
Convertible car seats are very bulky and heavy when you talk about this type of car seat. That's true in most situations because very few convertible car seats are lightweight.
So, here in this article, we're trying to compile a list of the lightweight car seats. All light convertible car seats should meet these criteria:
Size and shape: a seat can be used in rear-facing and forward-facing
Light weight under 15 pounds. The lighter, the better.
User-friendly installation with the seat belt
High enough height and weight limits for a few years of use
Roomy enough for comfort for growing kiddie
FAA approved for airplane use (optional)
Even though they are the best lightweight convertible car seats on the market, the weight gap between the lightest and heaviest can be as much as 5 pounds (9.29 lbs vs 14.25 lbs).
To make it simple, we categorized the 7 top lightweight convertible car seats into three groups based on the car seat's weight: under 10 pounds, between 10-12 pounds, and between 12-15 pounds. Just click on it below to find the one best fit your needs.
Best Lightweight Convertible Car Seat
Lightweight Convertible Car Seats By Bonus
Reviews for Best Lightweight Car Seat
In this buying guide to find the best lightweight car seat for your needs, we categorize them into three groups based on the car seat's weight: 
Lightest (<10 pounds)
#2 Lightweight (10-12 pounds)
#3 Lightweight (12-15 pounds)
Evenflo Tribute 5 - 9.29 lbs
Baby Trend Trooper - 10.38 lbs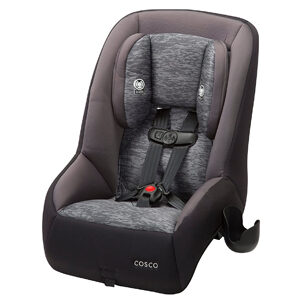 Cosco Mighty Fit 65 DX -11 lbs
Evenflo Sonus 65 - 11.5 lbs
Safety 1st Jive - 14.25 lbs
Safety 1st Guide - 15 lbs