One of the most challenging and also satisfying parts of doing CarSeatOn is figuring out which car seats will work best to meet your needs. 
If you're looking for the narrowest convertible car seats, move on to read this guide, in which we narrow down the options and find the best recommended narrow car seats in tight side-by-side or 3 cross situations. 
Convertible car seats are considered the bulkiest among the five car seat types. There are very few narrow convertible car seats on the market. But we find the narrowest convertible car seats that are all under 19 inches wide. 
To make the list, a narrow convertible car seat must also meet some other criteria: 
Size and shape: a seat must be narrow enough under 19″ but also fit well next to other car seats
User-friendly installation with the seat belt
High enough height and weight limits for a few years of use
Roomy enough for comfort for growing kiddie
To make it simple, we categorized the 5 narrowest convertible car seats into three groups of car seats based on the width of the car seat: 16-17" / 17-18"/18-19". Just click on it below to find the one best fit your needs.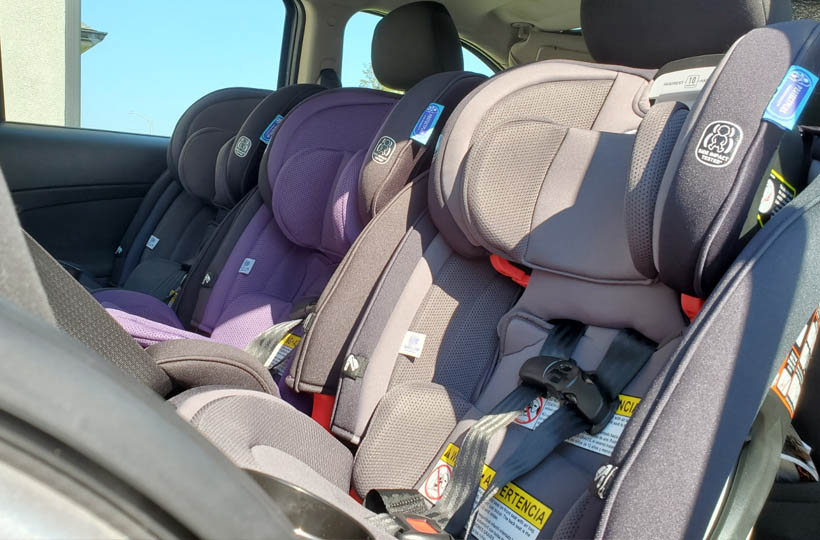 Britax Marathon ClickTight
We also make several lists of the narrowest convertible car seats according to their performance (rear-/forward-facing/booster weight/height limits), by budget, and by bonus features (like lightweight, portable for travel)
Graco SlimFit3 LX - 16.75"