What is the best car seat for 5 year old? 
Convertible and booster seats are good options to accommodate kids at five years old. Most kids at this age exceed the minimum weight requirement of a booster – 40 lb. 
But a high back booster is preferred to a backless booster which is suitable for preschoolers around 5 years old. 
A 5-year-old preschooler generally rides forward-facing, so both the convertible and booster are worth your consideration. 
If you have purchased a convertible car seat since your kid's birth, then just continue to use it until they outgrow the 65-pound weight limit or 49-inch height limit.
However, if your boy or girl exceeds the limits at five years of age, you can purchase the best booster seat for 5 years old. 
Booster seats are typically the cheapest. 
To make it simple, we've picked 9 of the best car seats for 5 year olds and categorized them into three weight groups (35-40 pounds, 40-50 pounds):

Britax Marathon ClickTight
These booster seats for five year old are great for smaller kids, even as little as 3 years old or 4 years old.
Take a closer look at our recommendations by viewing the car seats in the categories below.
Or, if you'd rather view the best car seat for five year old by its weight limit or height limit, your budget, or by bonus features (e.g. for fitting 3 across, portable for travel, etc), click on either of the below.
5-Year-Old Boys/Girls Average Weight & Height
The average weight for a 5-year-old is 39.5 pounds for girls and 40.5 pounds for boys, according to the World Health Organisation. How tall is the average 5-year-old? The average height for a 5-year-old is 42.5 inches for girls and 43 inches for boys.
Generally, the 5-year-old should ride forward-facing at this age, but choosing a convertible car seat or a booster seat depends on your specific need and situation.
If your kid grows faster than the average, then they can fit in a toddler booster. 
This does not mean you need to buy a booster as soon as they grow heavier than 40 pounds.
If you have used a convertible seat when they're smaller, you don't need to throw it away and purchase a new booster. That is absolutely a waste of money.
However, if you have a smaller child who needs to use the convertible car seat, getting a cheaper booster for the bigger kid is a great way to save money.
Best Convertible Car Seats for 5 Year Olds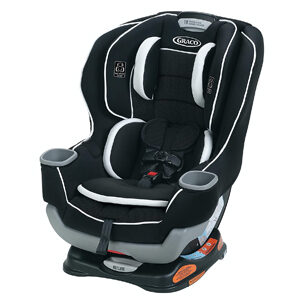 Award: Best with Longer Rear-facing
The Graco Extend2Fit is an affordable child safety seat that allows your child to face forward at their 5 years old. Its unique ProtectPlus technique delivers all-rounded protection from rear, side, back, and rollover in the event of crashes. Its 10-position headrest and  6-position recline ensure your kid will get the greatest comfort with his or her growth. We like it most for its top rear-facing height limit of 50 lbs and its innovative extended panel for 5-inch extra legroom.
Graco Extend2Fit is the best convertible car seat for 5 year old. Its 22-to-65-lb weight range covers all the kids at five years of age.
We rate it as the #1 of the best car seats for 5 year olds for another important factor – its extended usage in rear-facing mode when your child was an infant or a toddler. It ranks top among the few car seats that have a 50-lb rear-facing weight limit.
The Graco Extend2Fit comes with a 65-lb 5-point harness weight limit for forward-facing riding. This is far more than the average weight of 43-pounds for most 5-year-old children, making it the best car seat for 5 year old.
If you have purchased the Graco Extend2Fit and installed it forward-facing when your child was at their 3-year old or 4-year old, then you don't need to install it again, just ride your child as usual.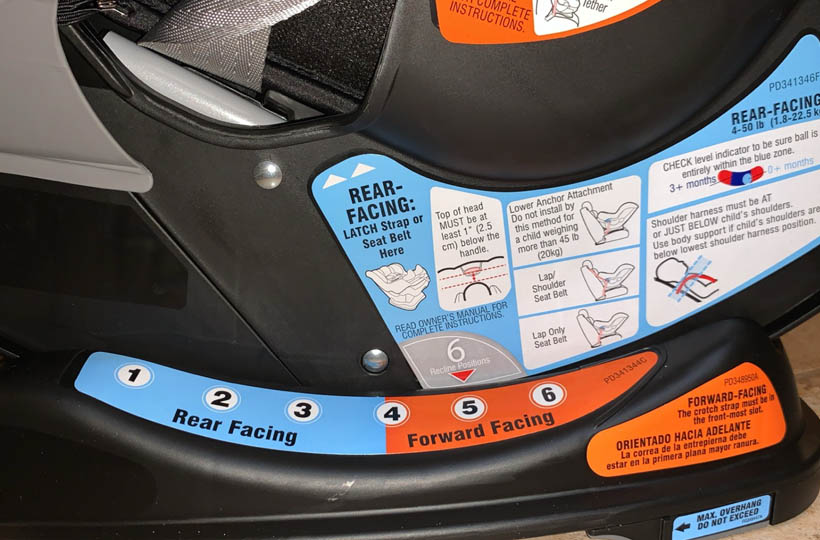 The Graco Extend2Fit has a few appealing features that amaze parents who have five-year-old boys or girls.
As your child grows, the harness and headrest should be adjusted to an upper position to keep the harness straps at or just above the child's shoulders and top of the child's ears below the top of the headrest.
You can finish the adjustment in seconds, thanks to the car seat No-Rethread Simply Safe Adjust™ Harness System that allows the headrest and harness to pull up together in one motion. 
Moreover, to make it easier for parents to get the 5 year old boy or girl in and out of the car seat, the Graco Extend2Fit features several fuss-free harness storage pockets that conveniently hold the harness out of the way.
Featuring two cup holders on both sides, the Graco Extend2Fit allows getting the snacks and drinks effortlessly.
The majority of best car seats for 5 year olds come with cup holders, but not all. Britax Marathon ClickTight is an exception! It does not have a cup holder.
Cup holders will result in an annoying problem – you may find the car seat, especially the seat pad, is very dirty after several trips.
After all, it's the only place for the kids to eat, drink, sleep and play in the car. 
Fortunately, the seat pad is machine washable and you can take it off for washing.
The harness can be cleaned with mild soap and damp cloth or wipes, while the buckle can be placed in a cup of warm water and gently agitated for cleaning.
You can always keep the car seat clean and comfortable by following the care and maintenance tips in the user manual or contacting customer support if you still have questions about the Graco Extend2Fit car seat.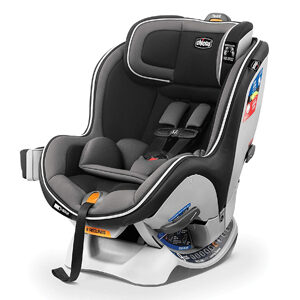 The Chicco NextFit Zip is a toddler car seat that can deliver an appropriate forward-facing weight limit to ride a 5-year-old, as well as a top-rated weight and height limit for younger toddlers to face back until 3 or 4 years old. This is the ideal safety restraint for busy parents who want to take the seat pad off in seconds without much effort and difficulty. It features a zip-off design.
Chicco NextFit Zip is the #2  best car seat for 5 year olds. It can ride a 5-year old child in front-facing with the 5-point harness. It's recommended to keep your child in this stage as long as possible.
The car seat can last long for riding a child under 65 pounds in weight and 49 inches in height, perfectly fitting 5 years old kids, even big ones age 6 or 7. 
The NextFit Zip is engineered with great protection. It features the company's unique DuoGuard technique, which is a protective system including a deep rigid high strength shell, EPS energy-absorbing foam, and two layers of head and body protection. These premium features make it one of the safest car seats for 5 year olds.
The nine-position reclines and nine-position headrest not only allow you to find a comfortable fit position to accommodate your child but also add more protection to best fit your child's growth.
Putting your child in the right position would enhance the headrest's protection and reduce the side impact in crashes. Positions ranging from 5 to 8 are good for 5 year olds.
We know that easy and accurate installation is an important factor to keep your 5-year-old boy or girl safe in the car seat. The Chicco NextFit Zip does more than allow two basic convenient installing methods – LATCH and vehicle seat belt.
The SuperCinch force-multiplying tightener and LockSure belt-locking system provide remarkably simple leveling and tightening and help the parents to install the car seat with confidence without confusion. It absolutely ranks top on the best car seats for 5 year olds.
The NextFit Zip is an entry-level model in the NextFit series, if you want more additional features from the Chicco car seats for your 5-year-old child, compare and check below four options and pick up the best one.
NextFit Sport
Entry-level
3. Britax Marathon ClickTight
Britax Marathon ClickTight
A sweet combination of protection, safety, and comfort, the Britax Marathon is packed with hauntingly good features. It comes with a top 65-pound weight limit, allowing your child to face front at 5 years old. The company-level ClickTight technique, along with the V-shaped tether, SafeCell crumples zone and high strength steel frame delivers excellent performance and great confidence.
The Britax Marathon is the #3 of best car seat for 5 year olds, using a 5-point harness to ride in front facing.
It's a convertible car seat that rides in two modes – rear-facing and front-facing. But a 5-year-old child absolutely exceeds the rear-facing weight limit of 40 pounds.
When used front facing, the Marathon was designed with a weight limit of 65 pounds and height limit of 49 inches, fitting most kids at their five years age, even big kids with a faster growth rate. 
The Marathon features the Britax company's unique techniques like the SafeCell, V-shaped tether, and high-strength steel frame, making it the safest car seat for five year olds.
The SafeCell technology crumples to help absorb crash energy while the V-shaped tether provides more stability to hold the car seat, reducing the twists and movement from side to side or from front to back in case of any crashes.
The company boasts of its steel frame to help keep the car seat stabilized. Actually, it's the basic requirement for most car seats, as reinforced steel frames increase the chance to pass through the federal safety standards for car seats in the crash tests. 
But this does not mean the Marathon is not a good option. It even provides more headrest and reclines positions than the majority of models on the market, outperforming other best car seats for 5 year olds.
The Britax Marathon was designed with a 14-position quick-adjustable headrest and harness and 7-position reclines for better fitting your growing child. 
It's a pity that the Marathon has only one layer of side impact protection, less than other Britax car seats' 2 layers or even 3 layers, even if it's dozens of dollars cheaper. But you may have found the Marathon is still more expensive than most Graco car seats.
An awesome entry-level toddler car seat from budget masters, Safety 1st. The Jive costs just under $100 but delivers an excellent performance in protection and comfort for 5-year-olds. Featuring a slim and lightweight design, it fits 3 across and is very portable for switching or transition. Plus, with the approval for aircraft use, this child safety restraint can be used to protect your child on the plane as well.
The Safety 1st Jive is the last on the list of best convertible car seats for a 5 year old. But this does not mean it's the least important. Quite oppositely, it works well to fit your 5-year-old little one since their newborn babies, thanks to its long-lasting design to accommodate kids from 5-65 pounds. It can be installed in both rear-facing and front-facing.
However, a 5 years old child should ride forward facing in the Safety 1st Jive, with the 5-point harness for security and protection. The included head and body pillows are removable and should be removed to provide your little one more space for a comfortable ride in the vehicle, and the airplane.
Yes, the Safety 1st Jive is approved for use on an aircraft and you can take it to fly with your 5 years old little one for protection. Compared to those bulky models for airplane use, the Safety 1st Jive features a compact and slim design, which not only makes it easier to pass the airport security checks but also fits 3 across in the back seat of most vehicles. This is a very appealing feature for parents with small cars or families with several growing children that need to ride in the car seats.
The Safety 1st Jive is friendly for the littles. It has two cup holders that take your child's snacks and drinks within their reach. Don't worry about the mess. It's detachable and dishwasher-safe, making the car seat be also friendly for parents. You can remove the cup holders to clean when a mess happens.
The machine washable and dryer-safe fabrics add points to its performance. Parents can easily take the seat pad off and wash it clean to keep their littles comfortable in their own world.
Harness Booster Car Seats for 5 Year Olds
1. Graco Tranzitions 3-in-1
Award: Best Harness to Booster
If you're after something that screams front-facing long-lasting, the Graco Tranzitions 3-in-1 is the crème de la crème when it comes to combination car seats. Considered the iPhone or Tesla of toddler car seats, the Tranzitions supports 2 car seat stages and 3 modes for big toddlers and kids and is one of the most popular safety seats on the market.
The Graco Tranzitions is a 3-in-1 harness booster seat for a 5 year old. It provides two modes to accommodate your 5 years old child. One is the 5-point harness and the other is the booster. It's a forward-facing only car seat to ride bid kids, not suitable for small toddlers under 22 pounds. This type of car seat generally works after the rear-facing only infant car seat for growing children, from 2 years to 10 years old. 
When used in the forward facing harness mode, the Tranzitions is suitable for children between 22-65 pounds, good enough to fit a 5 year old child at an average growth rate, or even big kids at a faster rate. The height limit is up to 49-inch in the 5-point harness mode. Obviously, the height limit will come first around their 7 years of age, on average. 
Thanks to its Simply Safe Adjust Harness System, the Graco Tranzitions allow the parents to adjust the harness and headrest in one motion for a perfect position. There are 8 height positions preset for choice to provide the safest and most comfortable fit. The Tranzitions is an old model from the Graco company and lacks a few advanced features that are designed in the newer models like the Extend2Fit and 4Ever DLX 4-in-1. It provides few headrest positions and is not GracoPlus Engineered for going through more testing standards.
It's strongly recommended to stick with the 5-point harness until your child outgrows the harness height or weight limits. But if your child prefers to sit in a booster at 5 years old, the Graco Tranzitions allows a seamless transition from harness convertible to a booster. Choosing to use it as a high back or backless booster depends on your child's weight and will. The booster -highback or backless, requires a weight minimum of 40 pounds, which was increased from 30 pounds by the company – from this point, it's better not to move your child to the next mode so soon. 
Two cup holders seem to be a necessity to ride a child in the car seat. So it's not surprising that you'll see two removable cup holders on both sides. They're useful to keep your child cheerful in the journey, with the drinks and snacks at easy reach.
One of the best harness boosters around and the people's champion, the KidsEmbrace deals in a 5-point harness for safer protection for smaller toddlers and a booster seat for big kids. Its Marvel hero theme is perfect for appealing to the children to stay in their car seats, letting both kids and parents be happy.
Tire of a common black-white-gray colored car seat to ride your kid? Here comes a different one – KidsEmbrace. It's the only best harness and booster seat for 5 year olds. All the car seats that come from KidsEmbrace are designed with Marvel heroes, SpiderMan or Captain America, etc. You can always find one that pleases your 5-year-old child and attracts them to stay in the car seat. Kids also love freedom and they don't want to be restricted with the harness. 
The KidsEmbrace car seat provides two modes to ride a 5 years old child – a 5-point harness convertible and a belt-positioning booster.
All kids at their 5 years age should weigh between the harness weight limits from 22 pounds to 65 pounds, including big kids. It's also recommended to use the 5-point harness for the safest riding before your child outgrows the car seat's maximum weight and height before changing to the booster mode. The company stated that the KidsEmbrace car seat is only side impact tested when using the 5-point harness. That means, riding with the harness is better. 
But if your kid insists on riding in the belt-positioning booster, the KidsEmbrace fits a 5 years old child as well, as long as they exceed the minimum weight of 40 pounds and a minimum height of 38 inches. This is not an issue for 5 years old children nowadays, as their growth rate can't be slower than old days for better health standards and better food choices. 
You may have found that the KidsEmbrace is designed to ride a child in the second and third stages. It does not support small toddlers in rear-facing mode for the first stage. The company does not manufacture rear-facing car seats now. If you need an infant car seat to comply with this harness booster seat, check our posts on the best infant car seats to find the right one for your littles.
All-in-one Car Seats for a 5 Year Old
2. Graco 4Ever DLX 4-in-1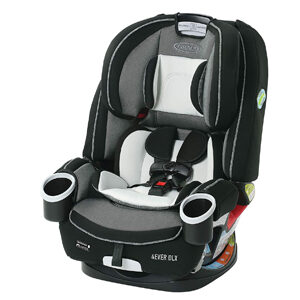 Award: Best All-in-one Car Seat with 4 Modes
With a high weight limit of 120 lbs and height limit up to to 57 inches, three stages in four modes, and a long lifespan of 10 years, the Graco 4Ever DLX is, without a doubt, one of the best and most affordable all-in-one car seat for your child's growth from day 1.
If you have purchased the Graco 4Ever DLX 4-in-1 car seat since your child's birth, you can still use it to accommodate when your child grows to 5 years old. The company designed this all-in-one car seat to grow with your child. It has a wide weight range and is good to accommodate kids from newborns to teenages: rear-facing (4-40 lbs), forward facing convertible (22-65 lbs), and booster (highback of 100 lbs and backless of 120 lbs). This makes it one of the best 5 year old car seats.
Both the convertible and booster modes are suitable for a 5-year-old kid. But sitting in the convertible seat with a 5-point harness is much safer than in the booster with only the seat belt for protection. Parents also need to keep this in mind: check your child if they reach the minimum weight limit of a booster – 40 pounds. Even most kids at their 5 years age are over this weight number. 
Graco is a traditional brand with a few years of experience in developing great car seats to meet the kids and parent's needs and also the market. The 4Ever DLX 4-in-1 is a newer version over the 4Ever 4-in-1 car seat, with several excellent improvements in safety, installation and convenience. 
The upgraded 4Ever DLX 4-in-1 is ProtectPlus Engineered, meaning it passed more strict and rigorous crash tests than the common standards used in 4Ever 4-in-1. At this point, 4Ever DLX is much safer than its previous sibling, which also featured the Graco's TrueShield for reducing the side-impact effect.
Accurate installation means a lot in protecting your child in the safety restraint system. The 4Ever DLX was designed with a built-in belt lock-off feature for easy and correct installation in the forward facing mode. 
Made of machine washable fabrics, the seat pad is effortless and saves parent's time and energy to take it off. The upgraded 4Ever DLX 4-in-1 car seat features a Rapid Remove cover, even much easier for you to take it off for washing. You don't need to uninstall the car seat but just unbuckle the snaps that are used to connect the different parts of the seat pad.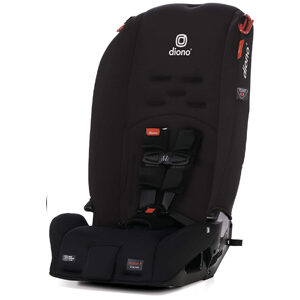 The Diono Radian is a fantastic cheap option for riding your child from birth until the day when he or she grows to 100 pounds in weight or 57 inches in height. Packed with best-in-class additional features, including compact width to fit 3 across and extended warranty up to 36 months, this is an ideal companion to travel with your child while saving money and space.
The Diono Radian 3R is able to accommodate a 5 year olds child in two modes – harness convertible and high back booster. It's an all-in-one car seat for a 5 year old. Most kids at their 5-year-age weigh around 40 pounds, some big kids who grow faster than their peers may weigh heavier, while the Radian 3R allows a child over 40 pounds to sit in the car seat in the booster mode. 
Booster mode is the second choice for riding a 5-year-old kid in the car. Parents should put the children in the harness as long as possible until they outgrow the harness height or weight limits. The safety car seat experts in the Consumer Reports and AAP also advise the parents to change the convertible to a booster when their kids are ready for the third stage. 
Diono Radian 3R Additional Features
It's designed to fit 3 across. The Diono might be the first brand that tried to develop this slim-fit design in their car seats. This great feature hits the big pain point for big families with several children that need to use a car seat, and the parents owned compact cars with narrow back seats. 
It's long-lasting. The Radian 3R is mechanically engineered and made from automotive-grade high-strength steel to enhance the protection during your child's growth. The car seat has a long lifespan of 10 years, thanks to its reinforced steel core.
It provides a very long warranty. You can get up to 36 months warranty for the car seat, as long as you'll register it with Diono post-purchase. That's triple the 12-month standard warranty for the Radian 3R and most other car seats.
You'll definitely like this car seat if you want a great money saver to grow with your children and if you have several children and need to install several car seats.
Maxi-Cosi Pria 3-in-1 Car Seat
The Maxi-Cosi Pria rides your child with supernatural grace, comfort, and protection to deliver top performance. It comes with plenty of padding and an extra infant insert that is well-made to ensure your kid's utmost luxury travel, making it one affordable all-in-one car seat to grow with your child from day 1 to 10 years old (around).
If you're looking for a safe and stylish 3-in-1 car seat for a 5 year old child, the Maxi-Cosi Pria should be on your list. It's available in various colours, making it a good option for both 5 years old boys and girls. 
The Maxi-Cosi Pria is a 3-in-1 car seat and can work in three modes for 3 stages – rear-facing harness, forward-facing harness, and booster (only high back booster). Generally, the parents accommodate a 5 years old child in the forward-facing harness or called convertible mode – 2nd stage. But if you need to put your kid in booster mode by removing the harness, make sure they weigh at least 40 pounds. All the booster car seats or multifunctional convertible car seats require this minimum weight limit. 
The Maxi-Cosi Pria is a combination of safety and comfort for your child. The 3-position reclines make it easy for parents to install the car seat correctly – accurate installation reduces the risks of injury in any accidents or crashes. The 5 headrest heights and quick fit shoulder harness ensure your child always places the head at the right height for best protection, for 5 years old kids of different height levels. 
The thick cushioned headrest not just provides the most needed protection around the head, but also gives your child the best comfort to ride in the car seat. We believe the high-quality and premium fabrics and padding are the main reasons for the Maxi-Cosi Pria's high price. It's almost $100 more expensive than the Diono Radian 3R. 
Considering its high-end looks and great comfort to your child, you may want this car seat to be installed in your vehicle to ride your child for long-distance journeys if you don't have a tight budget anyway.
Best Car Seat for 5 Year Old Preschoolers
Best Car Seat for 5 Year Old Preschoolers