What are the best car seats for 1 year old infants?
Based on the NHTSA's suggestion, it's strongly recommended to keep toddlers under 2 years old in a rear-facing car seat in the back vehicle seat.
Some states' local laws require the parents to put their babies in a rear-facing car seat until 2 years old, like New Jersey and California.
So if you're living or planning to travel with your baby in these states, it's better to follow this rule.
There are several types of rear-facing car seats for one year old and you can pick a suitable one according to your boy or girl's height or weight.
Most babies start their first journey in the vehicle with an infant car seat, as it's a requirement for the parents to install a baby car seat before they leave the hospital.
But it will be a bit fast for babies to outgrow the weight or height limit of the infant car seat, generally, the height limit comes first.
At this time, you should change it to another rear-facing car seat that supports a higher weight limit or height limit – convertible or all-in-one.
All in all, your 1-year-old little boy or girl should stay in a rear-facing car seat until he or she grows to 2 years old, then you may change to a forward-facing car seat.
Baby Boys and Girls Weight and Length

(

Height

) at One Year Old
Baby boys averagely weigh around 21.3 pounds and baby girls of 19.7 pounds when they're one year old, within the weight limit of most rear-facing infant car seats of 35 lbs.
The average length of a one- year baby boy is approximately 29 3/4 inches (75.7 cm) and a one-year baby girl is about 29 inches (74 cm), within the 32-inch height limit that most rear-facing car seats support.
You may find that the height limit is much easier to reach before the babies outgrow the weight limit of an infant car seat.
Don't worry, the convertible or all-in-one car seats will be a good choice to allow your baby to stay rear-facing until he/she grows to 2 years old.
There are so many different car seats to choose from so to make it as simple as possible I have categorized the best car seat for 1-year old into three type brackets with a plus – travel system.
Or, if you'd rather view the 1-year-old car seats by weight limit, height limit, or your budget, click on either of the below.
How We Conduct & Support The Child Car Seat Research:
To support our complete car seat review and editorial process, we rely on affiliate commissions. But these are at no cost to you.
If you read our buying guides and reviews, find a car seat that you like, and click through to the online retailers – primary on Amazon platform, then we may earn a commission. We only earn a commission if you purchase a car seat and are happy with it. If you decide that you don't like it and return it, we don't earn a commission.
Our work is independent and impartial. Retailers and manufacturers do not influence our reviews. This is extremely important to us as our mission is to help you find your perfect car seat.
Read more about our four core values, the car seat review process, editorial policy, and how Car Seat On is supported.
Best Infant Car Seats for 1 Year Old Rear Facing
Best Infant Car Seat with Stroller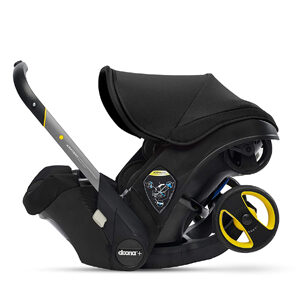 Doona Infant Car Seat Stroller
The self-proclaimed King of best car seat for 1 year old. It is the only car seat with wheels that allows you to stroller your babies until he or she outgrows the weight limit of 35 pounds and height limit of 32 inches. The car seat with stroller design gives the Doona great portability and makes it friendly for travel families. It's a pity that it's not good for tall parents to push the car seat with a fixed-length handle and needs a generous budget to afford it.
Summary:
Doona Infant Car Seat is the first recommendation for one-year-old babies. With a weight limit of 35 lb. and a height limit of 32-inch, it's able to support most kids at average weight and height at this age. This is the basis for most rear-facing infant car seats. It ranks the top #1 car seat for one year old for several reasons.
Why We Recommend It:
Doona is the only car seat that combines a car seat with a stroller. This unique feature does not only save your money but also saves your effort.
You don't need to purchase another stroller to walk your baby, and it's easy to turn the Doona into a stroller, just in seconds with one simple motion operation.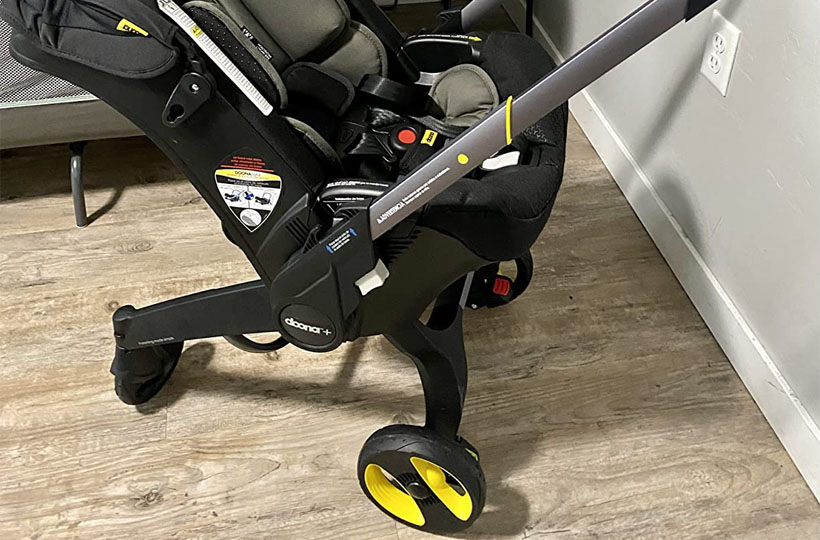 It's also the only best 1 year old car seat with wheels, which saves you the effort of taking a stroller if you want to walk or have a date with friends. The wheels are convenient to fold up to be a car seat to hold your baby rear-facing.
This Doona car seat and stroller combo feature are the best for little less than one year old, who sleeps a lot wherever they go.
Moving a baby from a car seat to a stroller might be disturbed the babies, even if they don't notice this move too much.
As parents, you always give the best to your 1 year old boy or girl, even the sleep. With Doona, you don't need to move your littles, just unfold the wheels to turn the car seat into a stroller. No need to disturb the kids' sleep!
Another appealing point is that the Doona is suitable for taking a taxi or in public transportation. You don't need to take another stroller but just the car seat, easy on and easy off.
Different from most infant car seats for one year old, the Doona features an adjustable handlebar, which is useful for moms and dads to walk the babies when you use it as a stroller.
However, some parents complain that the adjustment is not friendly for high dads, as Doona only supports 2 levels of adjustment – one used as a car seat and the other as a stroller. If the manufacturer would consider this point and add it to the improvement for the next upgrade, it would be good news for dads.
Doona baby car seat is TUV and FAA aircraft approved for travel. This means that it is not only suitable for car travel but also great for air travel.
It's highly recommended to use it for your one-year-old baby's air travels. You'll find its wheels are very useful and convenient in the airport, from the time you get off the car and onboard the plane.
Made of safe and breathable textiles, the Doona is friendly for one-year-old littles. The textiles are removable and washable, it's also good for parents.
We know that everything has two aspects – the good and the bad. The Doona infant car seat for 1 year old is not 100% perfect.
Have you noticed it? The Doona only supports the 35-lb weight limit and 32-inch height limit. Yes, it's only for rear-facing usage, meaning you can use it only for the littles around one year old or 18 months, seldom for small toddlers up to 2 years old.
Additional wheels add weight to the car seat. It's not surprising that Doona is heavier than most one year old infant car seats on the market. That's a pain point many parents also complain about.
According to the manufacturer's statement, the car seat weighs about 16.5 pounds. If adding the baby's 30+ lbs to the car seat, the weight can reach up to 50 pounds in total. It's a bit heavy for moms to carry for those situations where they can't walk to the car seat.
The manufacturer promised a 2 years warranty, covering the usage time for your first baby. That is better for other baby car seats with one year warranty.
An excellent infant car seat for premature newborns. It is able to ride a small baby as light as 4 pounds, with infant inserts and supports included. The top 30-pound weight limit makes it one of the most popular option for 1 year old. It's very lightweight and portable so that you can switch it between different vehicles easily. The grey colour is both good for boys and girls.
Summary:
The Chicco KeyFit 30 is the second recommendation of the best car seat for a 1 year old. It's one of the most popular ones on Amazon, earning a lot of compliments from the parents. The unique feature to support premature babies makes it the #1 choice car seat for newborns.
Why We Recommend It:
To keep the newborns' stay safe and comfortable in the car seat, the Chicco KeyFit 30 comes with a removable head and body support, which is very useful for ultra-small littles. It can be removed as your baby grow to one year old, who can keep themselves cradled in the car seat.
As a well-known brand in the child car seat industry, Chicco is experienced in taking the parents' concerns into consideration.
Most parents, especially the newbies who have their first baby, worry about the correct installation. The Chicco KeyFit 30 comes with a few branded innovative features to make it easier for parents to install correctly for a safe ride one year old in the car seat.
RideRight bubble level indicators show if the car seat installs at the right angle or not to fit the one year old little. 
ReclineSure spring-loaded level your baby's foot at the right position. 
SuperCinch force-multiplying tightens the baby with safety and comfort. 
Premium LATCH connectors are good for easily attaching the car seat to the base or removal.
The KeyFit 30 is a lightweight car seat for 1 year old, only 9.5 lb. But we still can't say that it's effortless to carry it with your baby in it.
Luckily, it's compatible with most Chicco strollers, which are not included in the car seat travel system and you need to purchase them separately.
To keep your baby comfortable in the car seat, the Chicco KeyFit 30 is made of high-quality fabric that is machine-washable. You can easily remove the seat pad and throw it into the washing machine.
Being suitable for premature babies is absolutely an excellent point, but KeyFit 30 also has an obvious drawback – lower weight and height limit than other rear-facing only one year old car seats like the Doona and UPPAbaby MESA.
You can easily get this from its name. The weight limit is only 30 lbs and the height limit is only 30 inches, only most littles around the average but not good for big kids that grow a bit faster.
But it seems the Chicco company does not worry about this a bit. They developed another two upgraded versions – KeyFit 30 Zip and KeyFit 30 Zip Air, with a bit different design and major improvements in the fabrics used in the car seat.
The Zip and Zip Air versions look apparently higher-end and more comfortable. It's not surprising that they are also more expensive, with 30~50 dollars more.
The differences between KeyFit 30 and KeyFit 30 Zip and KeyFit 30 Zip Air list below for easy comparison. You can easily pick up the one that is suitable for your one year old little.
Chicco KeyFit 30 vs KeyFit 30 Zip vs KeyFit 30 Zip Air
KeyFit 30
$199.99
Newborn Positioner
Machine-washable fabrics
Large canopy
KeyFit 30 Zip
$229.99
Newborn positioner
Machine-washable fabrics
Quick-remove seat pad
Cozy all-season boot
Premium zipper features
KeyFit 30 Zip Air
$239.99
Reversible newborn positioner
Machine-washable fabrics
Quick-remove seat pad
Cozy all-season boot
Premium zipper accents
3D AirMesh breathable backrest
A premium model with a higher rear-facing weight and height limit for a longer time riding. Featuring plenty of padding, along with infant inserts, it provides the most comfort for 1 year old infants. As a new brand that designs high-end car seats, it's understandable the MESA is more expensive.
The UPPAbaby MESA is the third best car seat for 1 year old. The UPPAbaby is a new internet brand that is different from those traditional brands like Graco, Chicco, and Britax.
But this does not make it less reliable than those companies. Actually, it makes use of a new and innovative way to attract parents' attention and becomes one of the most popular brands online.
The MESA is one classic infant car seat for one year old from UPPAbaby.
It is the only rear-facing baby car seat for one year old with a unique technology utilizing a tightness indicator and self-retracting LATCH connectors for fast, easy, and accurate installation.
While the correct installation is the biggest problem and concern for parents to safely drive their babies, the easier it is, the safer the parents feel.
Parents can effortlessly get confirmation from the tightness indicator on the base. When it turns green, it means that the seat is installed correctly whether using LATCH or belt.
The UPPAbaby MESA is one of the best baby car seats designed for preemies and smaller newborns, with the infant insert included in the package and low harness position designed for crotch strap settings to create a safer riding position.
Made of breathable and washable fabrics, the UPPAbaby MESA is comfortable for your baby to stay in.
The seat looks very soft and high-end, with a large UPF hideaway canopy to protect your 1-year old toddler from sunshine.
This definitely adds points to its performance, and also its price.
The UPPAbaby MESA is almost $100 more expensive than the Chicco KeyFit 30. Even both are good for premature newborns and are lightweight for carrying.
But you can always select a perfect baby car seat for 1 year old based on your needs and budget.
Convertible Car Seats for 1 Year Old
Best for Long Rear-Facing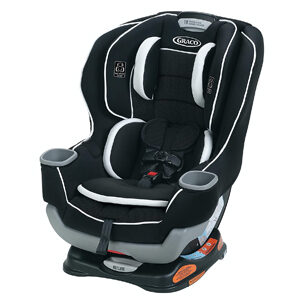 Want a car with extendable rear-facing riding even older than 1 year old? Look no further – the Graco Extend2Fit is the one for you. This car seat is every inch as badass as it sounds with a thrilling top upper rear-facing weight limit of 50 lbs, an extended panel of 4-inch more for the length, and a really long lifespan up to 10 years to grow with your child.
*RF=Rear Facing; FF=Forward Facing
Graco Extend2Fit is the best convertible car seat for driving a one year old in the car seat in rear-facing. It has a higher weight limit, good for fast-growing babies and big toddlers.
To make it fit for growing children, the company not only adds the weight limit of up to 50 pounds but also does the other trick, even its height limit is the same as other rear-facing only baby car seats for 1 year old when used in rear-facing – 32-inches.
As its name indicates, the Graco Extend2Fit is designed for extended usage.
It features a 4-position adjustable extension panel that provides up to 5-inch additional legroom. This allows your kid to stay rear-facing longer with safety and comfort.
Children are safer riding rear-facing and should ride rear-facing as long as possible until they reach the maximum weight or height limit for their car seats.
We find that some parents ask if they can put their children in a forward-facing car when their children are less than one year old.
It's not recommended!
The better and safer way is to keep your children in a rear-facing car seat until they are two years old.
Some US states local laws about child safety in a car require parents to follow this policy, otherwise, there will be a fee.
The 50-lb weight limit and 32-inch plus 5-inch more legroom allows your children to stay as long as their 2-year-old birthday, or even when they're 4 or 5 years old.
The Graco took the parents' concern of accurate installation into consideration and designed its car seat with a few helpful supportive features to help parents install this car seat for 1 year old toddler correctly.
The push-button InRight LATCH provides an easy, one-second attachment for the parents to install the base in the car easily and securely with an audible click.
The easy-to-read level indicator lets parents easily understand if they have installed the car seat at the right position without any guesswork.
The steel-reinforced frame does not only meet the minimum standard of a car seat safety test but also is strong enough to provide strength and durability for a long time use – up to 10 years.
This means that the Graco Extend2Fit can be used for several kids if you're planning to have a big family.
It's the basic requirement that all the car seats sold in the US should pass the federal child safety test in a car at 30-mph riding speed.
But Graco Extend2Fit provides more than that. It features the company's unique ProtectPlus Engineered, which is a combination of the most rigorous crash tests that protect your little one in the frontal, side, rear, and rollover crashes.
A review posted on Amazon proved its great crash test performance with real examples. But we do recommend you to drive safely to avoid any fierce crashes on the road.
Best for Easy Installation
Britax Boulevard ClickTight
An excellent convertible car seat for 1 year old infants with up to 40-lb weight limit. It's a not a budget model, but still receive a lot of appraises for its great features and solid protection. The unique 3-step ClickTight installation and V-shaped tether, along with a great deal of padding and two layers of side impact protection, it worths the price if you have enough budget.
Britax is another well-known traditional brand in the baby car seat industry and Boulevard is a classic convertible car seat from the company.
It features a relatively high weight limit for rear-facing mode, only 40 lbs. But it's good enough for one-year-old toddlers to stay rear-facing, even two- or three-year-old littles are not a big problem to ride in the Britax Boulevard rear-facing.
The Boulevard convertible car seat features Britax's unique ClickTight function that helps parents install it correctly with confidence.
However, you should always read the instructions carefully before starting to install the seat in your car, even if there are easy-read level indicators and a quick-push recline to help you find the proper angle for your vehicle and the most comfortable fit for your child. 
Correct installation is fundamental. But the Boulevard ClickTight adds more to protect your one year old child in case of any crashes.
2 layers of side impact protection surround your child's head, neck, and torso, reducing the crash effect; while the steel frame and crumple zones help absorb crash energy.
The patented V-shaped tether is a bonus to help slow forward movement to keep your child's head and neck safe all the time. 
As your child grows from baby to toddler, the Boulevard ClickTight supports a long use from rear-facing to forward-facing.
Remember, it's better to put your child in a rear-facing car seat until 2 years old. 
All-in-one Car Seats for 1 Year Old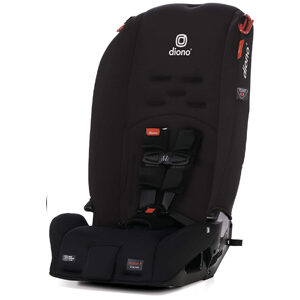 The Diono Radian 3R is the best car seat for a 1 year old to do 3 across while going through at least three stages from birth to youth. With a narrow 17-inch width, it takes up less installation space in the back seat, making it a great option for big families with several kids. Even better, this car seat comes with a ton of premium features such as a high rear-facing weight limit of 50 pounds and a great longevity along with 36 months extended warranty, making it an awesome value for money.
If you're looking for a 3-in-1 child safety system that can be used from birth to booster ages, the Diono Radian 3R might be the best recommendation. With a weight limit of 50 lb. for rear-facing use, it's absolutely good enough for a one year old in a car seat. 
This 50 lb. maximum weight is the highest for rear-facing of all convertible or 3-in-in or all-in-one car seats and ensures your child stays in the rear-facing as long as possible until they reach two years old and turn forward-facing.
The Radian 3R is a great choice for big families who have several children and need to install three car seats in the back.
The unique Radian slim-fit design, used in all models of Radian car seats, makes it possible to fit 3 across in most vehicles without compromising child comfort.
Just like most booster car seats, the Radian 3R also supports a long time usage, up to 10 years, with its best adaption to fit your children from newborns to big kids up to 120 lb. in booster mode. It goes through all three stages.
We should admit this is a very appealing point for parents who want a premium car seat with great value and save money to buy multiple car seats.
However, we should admit that all-in-one car seats don't do any single task all that well as single-functioning ones when they are trying to do too much.
But it's still a good choice for parents who are on a tight budget and want a great protective car seat for 1 year old.
Maxi-Cosi Pria 3-in-1 Car Seat
A premium all-in-one car seat with plenty of padding for comfort and safety. With a 40-lb weight limit and 40-inch height limit, it is capable of riding 1 year old infant in rear-facing for a longer time, if you're living in a state that has strict car seat laws on rear-facing until 2 years old.
The Maxi-Cosi Pria is another all-in-one baby car seat for onto sit from birth to booster. The Maxi-Cosi Pria is great enough to fit all one year old in the car seat at an average of 30 lb. in weight and 29-inch in length, thanks to its 40-lb weight limit and 40-inch height limit.
Don't underestimate its maximum performance, after all, they are even 5-lb and 5-inch greater than most infant rear-facing only car seats on the market.
And most children can't reach this limit before 4 years old, even if it's a bit lower than those convertible car seats with a 50-lb weight limit in rear-facing mode.
To fit your newborn littles well, the Maxi-Cosi Pria includes some great inserts that can be removable as they grow bigger.
The inserts are necessary to keep your kids comfortable and stable in the car seat. At this point, it does better than the Diono Radian 3R, which includes fewer accessories in the package.
But it's not necessary for one year old in a car seat to use this and you can remove it when they are big and tall enough to reach the lowest harness settings.
The headrest should be positioned precisely to fit your one year old in the car seat to protect their heads and neck as they grow.
The Maxi-Cosi Pria features a quick-fit shoulder harness system that will automatically raise the harness and headrest height so that you can effortlessly adjust that.
Accurate installation is easily achievable thanks to its one-click LATCH system. This solves the parents' biggest problem and you don't need to worry much about that, just follow the car seat's manual and your vehicle's owner manual to ensure correct installation.
The easy in-and-out harness holders keep straps out of the way when buckling, making sure you won't tighten too much that will cause your baby uncomfort.
Travel Systems for 1 Year Old
1. Evenflo Pivot Modular Travel System
Evenflo Pivot Modular Travel System
A top-rated travel system with the infant car seat supports for 1 year old infants. Actually, the 35-lb weight limit is great enough to ride most toddlers at 2 years old with an average growth speed. The stroller is able to stroll bigger kids up to 50 lbs.
*RF=Rear Facing; 
The Evenflo Pivot Modular might be the best choice if you're considering having a travel system to ride and take your one year old toddler in the car seat. It earns a good reputation among the parents, for its high quality and budget price. 
The infant car seat of the Evenflo Pivot Modular Travel System is as good as other rear-facing car seats for 1 year old.
It is designed with a 35-lb maximum weight rating and 32-inch maximum height rating, which is perfect enough to ride a 1-year-old toddler. 
The stroller can be used for a longer time, with a higher weight limit of 50 lbs. This means your child can still sit in the stroller at around 7-8 years if they're at the average weight that their ages. 
Of course, you should change to another convertible car seat to be installed in a vehicle to ride your bigger kids.
The Graco Extend2Fit is a good choice, or you can try some all-in-one car seats. 
Best Car Seat for One Year Old Infants