Ohio car seat laws do not have strict requirements on height and weight, and age. 
According to Ohio State Law, all children under 8 years old should ride with a child restraint system that meets federal motor vehicle safety standards and is appropriate to the child's weight and height.
See? No specific weight, height, or age requirements on booster, forward-facing, or rear-facing. However, to safely ride with your kid, following the rules and the guidelines provided by car seat manufacturers is the best practice. 
What is the car seat law in Ohio?
Ohio Rear-Facing Car Seat Laws
According to Ohio law, children must travel in a car seat when they are less than 4 years old or under 40 pounds. No rear-facing is mentioned in the law, but the car seat needs to be suitable for the child's weight and height.
The best practice is to keep a child in a rear-facing car seat until the age of 2 or until reaching the maximum height or weight set by the car seat manufacturer.
Not specific requirements on rear-facing
Less than the minimum weight limit for a forward-facing seat
If so, have your baby in the infant car seat until they reach the weight or height limit of the car seat, generally 35 pounds or 32 inches, which does not violate the Ohio car seat laws on rear-facing.
The safest practice is to keep your kid in the rear-facing position for as long as possible.
BEST REAR-FACING CAR SEAT

Graco SnugRide 35 Lite LX
Ohio Forward Facing Car Seat Laws
The same case happens to the forward-facing. Ohio law does not specify the age, weight, and height requirements on forward-facing car seats. At this time, it's best to follow the guidelines of AAP and NHTSA – Use a forward-facing car seat when the child outgrows their rear-facing car seat.
By law, the forward-facing seats are required to be used until a child is 4 years old and weighs at least 40 pounds.
It's best to keep your child in the forward-facing car seat as long as they are still within the upper weight or height limit of their car seats.
BEST FRONT-FACING CAR SEAT
Child Booster Seat Laws in Ohio
The Ohio law says that children who are between 4 and 8 years old should be secured in a booster until they reach 4 feet 9 inches in height.
It means that your child can get out of a booster seat on the eighth birthday or when they are 57 inches or taller.
The law also requires that all booster seats must be used with a lap and shoulder belt.
Ohio Child Car Seat Laws on Seat Belt
After outgrowing the booster seats, the child can use a seat belt. According to Ohio law, children aged 8 up to age 15 should wear a vehicle seat belt.
Penalty for Breaking Car Seat Laws in Ohio
Violating the law will result in a minimum fine of $25 and a maximum fine of $75 for the first offenses.
Second offense fines to $250 and jail time to 30 days.
Ohio Car Seat Laws Apply for
It's the drivers' responsibility to make sure the child be secured properly in an appropriate car seat following the law.
Exceptions:
Taxis, public maintenance/street workers
When can a child sit in the front seat in Ohio?
There is no age mentioned in the Ohio law regarding the front seat. According to law, children ages 8-15 must use a child safety seat or safety belt, either front or back seats. 
However, the law also recommends, along with the guidelines of the American Academy of Pediatrics, that children can sit in the front seat after they are at least 13 years old.
Taxi Car Seat Law in Ohio
Taxis are exempt from child restraint laws in Ohio as mentioned in section 4511.81(a).
Age, Weight, Height Requirements in Ohio Law
The Ohio laws have a few age, weight, or height requirements:
Birth to 4 years old and under 40 pounds – Stage 1 and 2
Children who meet these requirements need to ride in a child safety car seat, but not specifically on the rear- or forward-facing.
Age 4 up to 8 or 4'9" tall – Stage 3

A booster is required to ride a child at least 4 years old but under 8 years of age, or until the child is less than 4 feet 9 inches.
Age 8 up to age 15 – Stage 4

Only children who are at least 8 years old can wear a seat belt.
Travel Car Seats to Work with Ohio Laws
Best for Infants in Rear-Facing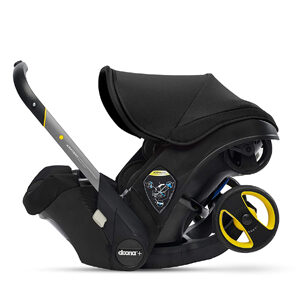 Doona Infant Car Seat Stroller Combo
Once upon a long time, Doona is the only car seat with wheels on the market, until Evenflo launched a new model called Shyft DualRide Infant Car Seat and Stroller Combo.
The benefits of infant car seats with wheels are highly recommended for families on the go. They combine infant and stroller into one so that you don't need to take the base or carryall storage for air travel. 
Best for Toddlers in Forward-facing
Evenflo Tribute 5 - 9.29 lbs
This convertible car seat is great enough to meet the parent's need to ride their kids in the rear- and front-facing for a longer time. The lightweight design makes it good for families that always take the kids for travel, in and outside of the country.
When using it facing front, the 65-lb weight limit makes it go through the preschool ages – 3 years old, 4 years old, and 5 years old.
Booster Seats for Big Kids
The Chicco GoFit Plus is the most popular and best budget car seat to meet the Ohio State Law to ride older children, six or seven years old, or even bigger.
All 50 US States Car Seat Laws
FAQs on Ohio Car Seat Laws
What is the weight and age for a booster seat in Ohio?
The Ohio booster seat law does not make it clear for the minimum weight and age requirement for a booster seat. But typically, you should follow the manufacturer's guidelines: put your kid in a booster seat when the kid is at least 4 years old or 40 pounds in weight.
What is the maximum requirement on weight and age for a booster seat in Ohio? It's 8 years of age or 57 inches tall. No weight requirement, but instead use the height limit just as the car seat laws in other US states.
Can an 8 year old sit in the front seat near Ohio?
Legally, an 8-year-old can sit in the front seat in Ohio. But it's better not. According to the implementation document for the Ohio car seat laws, children are safest in the back seat until at least 13 years old.
Is it safe for a 10 year old to ride in the front seat in Ohio?
It's STRONGLY recommended to keep a 10-year-old child riding in the back seat in Ohio. According to the extra explanation of the Ohio car seat laws, it's safest to put children under 13 years old in the back seat. 
However, if the back seats are occupied by younger kids less than 10 years old and they still need to ride in a car seat, the 10-year-old is legally allowed to ride in the front seat anywya.
What is the weight and age for a booster seat in Ohio?