According to the Minnesota State Law, children under 8 years old or less than 4 feet 9 inches in height should be secured in a federally approved child passenger restraint that is installed with seat belts based on the manufacturer's instructions.
The child restraint system should meet the standards of the United States Department of Transportation. It can be a car seat or a booster seat.
No matter you're a citizen or a passer-by, it's better to follow the MN official legislature rules on riding with a child.
What is the Car Seat Law in Minnesota?
MN Car Seat Laws Rear-Facing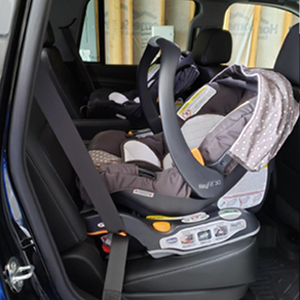 The Minnesota law doesn't say any age, weight, or height requirements for a rear-facing car seat.
It only requires that all children must be in a child restraint system until they are 4'9" tall, or at least age 8, whichever comes first.
However, the Minnesota Department of Public Safety (DPS for short in the following) makes it clear with rules that infants and toddlers should travel in the rear-facing car seat for as long as possible until they reach the highest weight or height set by the manufacturer. 
MN car seat law is not that strict on rear-facing position. As a result, almost all infant car seats meet the rules for safely traveling newborns.
The Doona Infant and Stroller might be the best rear-facing car seat option to meet the rules in Minnesota. 
Minnesota Forward Facing Car Seat Laws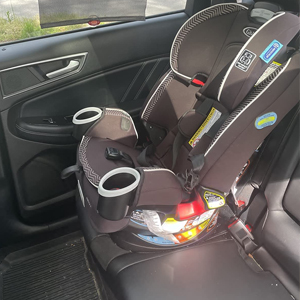 When can a baby face forward in a car seat in Minnesota?
You can't find any rules in MN law mentioning the time when a child can face forward in the car seat.
According to the Minnesota Office of Traffic Safety, children can travel in the forward-facing car seat once they reach the upper weight or height limit allowed by the car seat manufacturer.
The forward-facing car seat should come with a harness and tether. This is a common regulation suggested by National Highway Traffic Safety Administration. A 5-point harness reduces the injury for toddlers and preschoolers when they travel in the car facing the front.
Most forward-facing car seats, including the convertible, harnessed booster, and all-in-one car seats, allow up to 65 pounds for weight and 4 feet 9 inches for height. That typically happens when a child is 5-6 years old.
Graco Extend2Fit may be the best forward-facing option for the MN car seat law.
What is The Law for Booster Seats in Minnesota?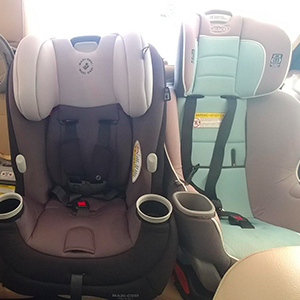 In Minnesota, according to 169.685 Subd. 5 rule (a) and (e) in 2021 Minnesota Statutes, children must be secured in a booster seat until they are 8 years of age or 4 feet 9 inches tall.
It seems the 8 years old is the booster seat age requirement in Minnesota, but this regulation is not stated in the laws.
The Minnesota DPS indicates that booster seats should be the safest option to travel a child after the child outgrows their forward-facing harnessed car seats.
It's best to keep using the forward-facing car seat as long as the child outgrows the weight or height limit allowed by the manufacturer, the transition to the booster seat.
Seat Belt Laws for Child in Minnesota
There is no age, weight, or height rule for a child to use a seat belt mentioned in the MN car seat laws.
But the Minnesota DPS gives us the guideline – A child is ready to use the vehicle's seat belt when the seat belt fits them properly. 
How do you know if properly or not?
You can check if your child can sit with their back against the vehicle seat and have their knees bent comfortably over the edge with their feet touching the floor.
The best practice is to keep using the booster seat until your child approaches the top weight or height limit given by the manufacturer.
Most boosters, including harnessed, high back, and backless, allow 100-120 pounds and 57-63 inches in height. This typically happens at a child's 8-12 years of age. 
Penalty for Breaking Car Seat Laws in Minnesota
From the Minnesota Legislature, 169.685 Subd. 5 rule, drivers who violate this law shall be fined up to $50.
Minnesota Car Seat Laws Apply for
The driver is responsible for child safety in motor vehicles. The law applies to
All seating positions
Both residents and non-residents of Minnesota
All motor vehicles were originally equipped with factory-installed seat belts.
Exceptions
The law shall not apply to
Emergency medical vehicles
A peace officer in the performance of official duties and when a child passenger restraint system is not available
Motor vehicles for hire, including a taxicab, airport limousine, or bus, but excluding a rented, leased, or borrowed car
School bus
When can a child sit in the front seat in Minnesota?
Minnesota doesn't have any laws or regulations for a child to sit in the front seat.
But the Minnesota DPS suggests the best safety tip is to keep your child sitting in the back seat when it is available.
Child safety experts and guidelines from NHTSA recommend a child younger than 13 years of age have a seat in the rear. 
It's not allowed to place a car seat in the front seat when the airbag is active.
Taxi Car Seat Law in Minnesota
According to the 169.685 Subd. 6 rule, taxis are exempt from following Minnesota Child Restraint laws.
The parents should hold the major responsibility to ensure the child passenger's safety in the car.
Does the taxi law apply to Uber? 
That depends. If you're a Uber driver and ride the parents with their kids, then it's the parent's duty to make sure the child's safety. But if you're going to rent a Uber car for self-driving with your child, the driver should be responsible for the child passenger's safety in the car.
Age, Weight, Height Requirements in Minnesota Law
8 years old and 4 feet 9 inches tall are the only two numbers mentioned in the MN car seat laws for a child to use a child restraint or a booster seat. No more age, weight, or height regulations.
However, it's recommended to follow the car seat manufacturer's instructions and the guidelines from NHTSA to secure your child in four stages
Best Car Seats to Work with Minnesota Laws
Rear-Facing Car Seat for Infants and Small Toddlers
More than this Doona car seat and stroller combo, there are a few excellent options available for riding infants in rear-facing. But not all will perform as well as it to allow 1-year-old infants to face the back for this long time, Chicco KeyFit 30 for example, features a low 30-lb weight limit that might not go through the first year. 
Forward-Facing for Big Toddlers and Preschoolers
Booster Seats for Big Kids
Graco TurboBooster Backless Booster
The Graco TurboBooster is the most popular and best budget car seat to meet the State Law to ride older children, six or seven years old, or even bigger. While six years of age is relatively younger than other states' eight years of age requirement, it's sooner for Alabama children to get rid of a car seat.