One of the most challenging and also satisfying parts of doing CarSeatOn is figuring out which car seats will work best to meet your needs. 
If you're looking for foldable car seats that are friendly for travel around, move on to read this guide, in which we narrow down the options and find the top 5 car seats with a folding design. 
Some foldable car seats are also lightweight, like the WayB Pico and  Ride Safer Travel Vest. Some foldable car seats are not, like the Diono Radian 3R. But it is still good enough for easy carrying or storage if needed.
Most portable car seats are designed for big toddlers at least 2 years old. But the Doona infant car seat is good for newborns and infants under 1 year old.
To make the list, a portable car seat must also meet the other criteria:
Size and shape: folding design
Easy to carry
User-friendly installation with the seat belt
High enough height and weight limits for a few years of use
Roomy enough for comfort for growing kiddie

We also make several lists of the best portable car seats according to their performance (rear-/forward-facing/booster weight/height limits), budget, and by bonus features (like lightweight, portable for travel)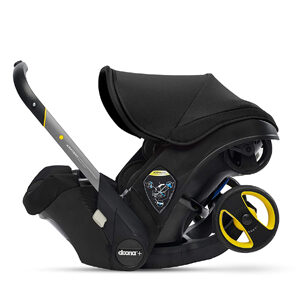 Doona Infant Car Seat Stroller