When can a baby face forward in a car seat?
This is a common question that many parents may have. The AAP (American Academy of Pediatrics) recommended keeping kids rear-facing until they are too big for their rear-facing toddler car seats, to be at least 2 years old.
So it is the best time to turn your child to front-facing when they approach the height or weight limits of their rear-facing car seats, no matter infant, convertible, or all-in-one.
The traditional minimum weight and age requirements for forward-facing is around 20 pounds and 1 year. That's quite the same as the local laws in a few US states.
However, some other states follow suggestions from the officials from NHTSA and AAP – the best time to allow a baby to face forward at least 2 years old because data proved that a rear-facing position is safer than a front-facing position.
The 2-year old age requirement can be also found in some states' local laws. If you're living in these states – California, Connecticut, New Jersey, Illinois, Nebraska, Alabama, Oklahoma, Oregon, and Hawaii, it's better to obey the rules to turn your baby face forward after their second birthday.
When can a baby face forward in a car seat 2023?
That depends on the local laws and your baby's age, weight, and height. 
2 years old is a simple and direct tip for a few states, where the highway officials require that a toddler younger than 2 years old should stay in a rear-facing child safety seat.
But if you live out of those states listed above for requiring toddlers younger than 2 years to stay in a rear-facing car seat, just follow the local laws anyway. 
Most US states have made rules to ride a child in the safety car seat.
It's a good idea to check the local laws before purchasing a car seat for newborn babies because you need to confirm whether you need to purchase a baby car seat with high rear-facing weight/height limits or not.
As long as your child meets the very fundamental requirements of a forward-facing ride, it's the best time for transition from rear-facing to front-facing. 
When can a baby front face turning car seat?
Age, weight, and height are the most commonly seen factors in the local laws and car seat descriptions. The requirements may vary based on the different states and car seats, but generally in a reasonable range.
At What Age Can a Baby Face Forward?
It's a convention that most parents turn the car seat to forward-facing after their kids' second birthday because the rear-facing position is safer for small babies than forward-facing.
It's required in some states and a preferable option for the other states that require toddlers older than 1 year can turn to forward-facing.
Age limit for forward facing car seat
There are several types of car seats that can face forward, including convertible, harness to booster, all-in-one, and booster.
The first three car seat types don't specify the minimum age to face front.
The booster car seats and car seats that are used in booster mode – combination and all-in-one, always say that only kids older than 4 years old are allowed to ride in a forward-facing booster seat. 
The upper age limit is not specified.
After all, kids older than 8 years old are allowed to wear a seat belt for safety in most cities.
At What Weight Can a Baby Face Forward
Your baby should weigh at least 20 pounds to face forward in a car seat.
After turning to front-facing with the 5-point harness, the majority of car seats are capable of fitting kids between 22-65 pounds.
Few come with a 20-lb minimum weight, like the Britax convertible car seats. Even less features a 25-lb minimum weight, like the Chicco MyFit harness booster and Fit4 4-in-1 convertible car seat.
That's the lowest weight limit required in the 5-point harness.
Babies should weigh a bit more to face forward in a booster seat or a multi-functional child safety seat in booster mode. The 40-pound weight is a basic and normal standard.
Weight limits for forward facing car seats
What weight for forward-facing child restraint system vary based on the car seat types, stages/modes, and even the brands or the individual car seat. 
What car seat can face forward?
Convertibles, combination, all-in-one, and boosters.
What car seat stages allow to face forward?
The second of 5-point forward-facing and the third of booster. When you want to know the answer to this question – how much should a baby weigh to face forward in the car seat, it is generally related to the minimum weight requirement for different stages and types. 
Convertible car seats for the 2nd stage in a 5-point harness feature a common low weight requirement of 22 pounds, except that Britax convertibles are capable of as low as 20 pounds.
The standard upper weight limit is 65 pounds in the 5-point harness.
Combination (harness to booster) and all-in-one car seats with 5-point harness configuration are able to accommodate kids as light as 22 or 25 lbs and as heavy as 65 pounds. The Chicco MyFit demands a 25-lb low weight limit to fit in the 5-point harness.
Changing to the 3rd booster stage will increase both the minimum and maximum weight limits. The toddlers should weigh at least 40 lbs to ride in the booster mode.
That's the elemental weight to ride in a toddler booster seat as well. The upper weight limit of the booster may differ according to the specific models, typically ranging between 100-120 pounds at most.
Height limit is another more important thing for deciding when the car seat for babies can face forward.
Babies usually grow faster in height than in weight. You should switch the car seat to forward-facing as long as your baby is too big for their rear-facing car seats.
But typically, there is no minimum height requirement to ride in a car seat that faces forward, However, it's better to know your car seat requirements than know nothing.
Height limits for car seats to face forward
It's time to let your baby ride forward-facing when they approach the height limit of their rear-facing car seats. 
Convertibles used in rear-facing harness usually allow for a lower height limit than in the front-facing harness. Most come with an upper height limit between 40-43 inches.
When using in the 5-point harness, the upper height limits are generally located between 49-54 inches.
All-in-one may have a higher weight limit between 57-63 inches for the booster mode.
Best Forward Facing Car Seat for Ages
The forward-facing takes up 50% of the stages and more than 75% time your child riding in a car seat, so it's not surprising that several car seat types and hundreds of child safety car seats are available for front-facing.
Age is an easy way to decide what type of car seat your baby needs, so we want to pick three ages for the bounding to help you find the best forward car seat for what age.
When your child grows to 2 years old, there are three types of car seats available for toddlers at this age: convertible, all-in-one, and combination. Toddlers at 2 years old or younger are better to ride rear-facing with a rear-facing harness, while big kids older than 2 years old can ride forward-facing, but still need a 5-point harness for safety.
Best Convertible Car Seats for 2 Years Old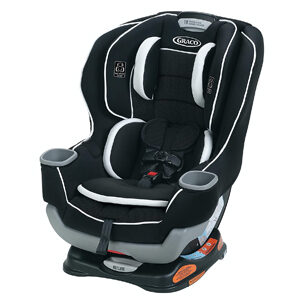 Graco Extend2Fit - 50 lb. Rear Facing Weight Limit
The Graco Extend2Fit is a great convertible car seat with a high rear-facing weight limit of up to 50 pounds, making it the best option for a baby to face back longer before transitioning to forward-facing. Its Graco ProtectPlus is Engineered to perform very well in safety performance with high scores in crash tests from frontal, rear, side, and rollover. Multiple headrests and recline positions provide the best comfort and fit for growing children.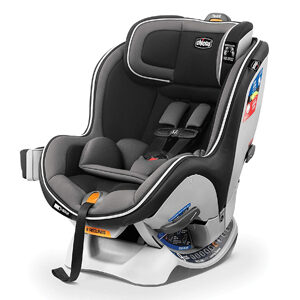 Chicco NextFit Zip - 43-inch Rear Facing Height Limit
The Chicco NextFit Zip is another convertible car seat for longer rear-facing riding before switching to forward-facing, thanks to its 43-inch height limit, which commonly comes first before the weight limit. The innovative zip-off design gives the parents the best convenience to take the seat cover off for machine washing, helping a lot in saving your time! Plenty of padding, along with the deep seat design, provides the most comfortable with your child's growth.
Best All-in-one Car Seat for 2 Years Old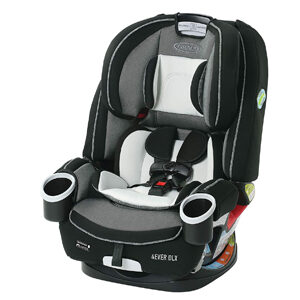 Graco 4Ever DLX - 4 Modes for Longest Lasting
The Graco 4Ever DLX is a multi-role player that lasts for three stages as well as four modes – rear facing, forward-facing, high back booster, and backless booster. This is the ideal car seat for parents who want to have an all-in-one riding solution without compromising on safety rating and comfort.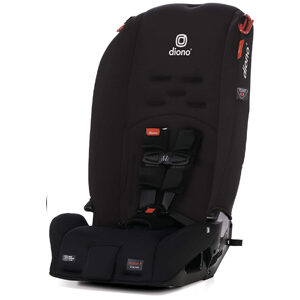 Diono Radian 3R - Narrow Width to Fit 3 Across
The Diono Radian 3R features a 17-inch narrow width to do 3 across fit for big families who have several kids. It's a great all-in-one car seat that will last for three stages from rear-facing, forward-facing, and booster until your child does not need a car seat. It's also a budget option for parents who want an affordable car seat with great comfort.
Big toddlers growing to 4 years old will have one more type of car seat – booster, plus the convertible, all-in-one, and combination car seats. They can ride facing rear or front, depending on the local car seat laws and the weight and height of your child. 
If they don't exceed the rear-facing weight or height limit of their car seats, keeping them rear-facing is a good idea. Otherwise, just switch the car seat to forward-facing. 
All these four types of car seats can be installed facing front, while combination and booster seats support only forward-facing. The best options for 2 years old are also applicable for 4 years old, or even for a 5-year-old preschooler. So in this part, we'll list other recommendations.
Best Harness Booster Car Seat for 4 Years Old
KidsEmbrace - More Joy with Hero Themed
A sweet combination of safety, comfort, and joy, the KidsEmbrace is packed with hauntingly great features. It delivers a fun but practical ride, allowing your child to ride this car seat up to 100 pounds in weight and 57-inch in height. The different hero-themed seat is attractive to both boys and girls.
Graco Tranzitions - Budget Choice with 3 Modes
Innovative 3-in-1 design and great safety performance earn the Graco Tranzitions its reputation as the herald of the next-gen car seat experience. With three modes – forward facing, high back booster, and backless booster, you can effortlessly switch it between these three modes according to your child's growth and appetite.
Best High Back Booster Car Seats for 4 Years Old
Graco Affix - Lightweight and Portable
One of the best high back booster seats for big toddlers, the Graco Affix weighs only 10.2 pounds, making it an ultra portable car seat for easy switch between different vehicles. Its slick and stylish color are perfect for boys and girls toddlers.
Best Backless Car Seat for 4 Years Old
Diono Solana 2 - up to 63-inch Highest Height Limit
Designed special for big kids, the Diono Solana 2 is an upgraded version with the greatest height limit up to 63-inch. Along with the 120-pound weight limit, even school children up to 13 years old can use this backless car seat until they don't need a safety seat. Its budget price and longevity up to 8 years old make it a great money saver.
When your child grows to 8 years old, they are not required to ride in a car seat. In most US states, the car seat laws say that 8 years old kids can wear a vehicle seat belt for safety, just like the adults. 
But if you insist on riding 8 years old child in a car seat, the best choices listed above for younger kids are also applicable for 8 years old, except the convertible car seats, which are mostly for younger kids at 6 years or 7 years.
So the options for 8 years old kids are all-in-one, combination, booster, and seat belt.