If you have the same question as us when we have our first baby: what is the best infant car seat for my newborn? That's very dependable on your needs and budget.
As we have gone through the same research process, we did this list of our considered best infant car seats, including cheap ones under $200, the lightest ones for easy carry, and the best portable ones for travel.
Different families have different needs for an infant car seat. So we do this list for first-time parents who are looking for a top-rated and safe infant car seat for newborns, saving you time to do the paperwork in the research stage.
Being a parent is very exciting, I know this feeling as you, ensuring your baby's safety is the next biggest thing in your mind. The car seat might be the first and most important investment you can make for your newborns. After all, the hospital won't let you leave if you don't have a child safety seat in your car.
It's not easy to find a perfect car seat for newborn babies, especially for new parents who have their first kid. There are a few types of car seats are designed for newborns, besides infant car seats, convertible car seats, and all-in-one car seats are also good options. 
The right one makes the perfect one. Both the car seat experts and official US bureaus like NHTSA advise parents to purchase an appropriate car seat based on the baby's age and size.
Weight and Height Limits of Infant Car Seats
The size limit allowed by most infant car seats range between 30-35 pounds for weight and 30-32 inches for height. You should have known that infant car seat can ONLY be used rear-facing.
The 35-lb and 32-inch combination works well to make infant car seats for kids at 1 year old or 18 months at most.
According to the AAP (American Academy of Pediatrics) new guidelines, it is better to keep your children rear-facing as long as possible. Some states in US require parents to ride a kid rear-facing until 2 years old. 
Of course, there are other things for consideration, like the SIP (side impact protection), features and functionality, Amazon reviews, and extras such as lightweight for easy portable (see the lightest infant car seats), and narrow profile to fit 3 across in small cars. We narrowed our search to 6 of the best infant car seats you can consider buying.
Brtiax B-Safe Gen2 FlexFit
Or, if you'd rather view the best infant car seats by weight and height limits, your budget, or by type (e.g. portable, fit 3 across, etc), click on either of the below.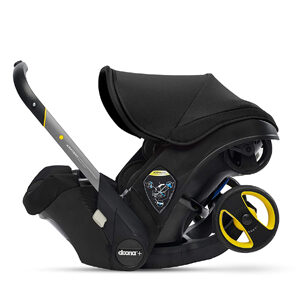 Doona Infant Car Seat Stroller
Britax B-Safe Gen2 Flexfit